by Gizelle Medina '25 (edited by Chris Pfaff)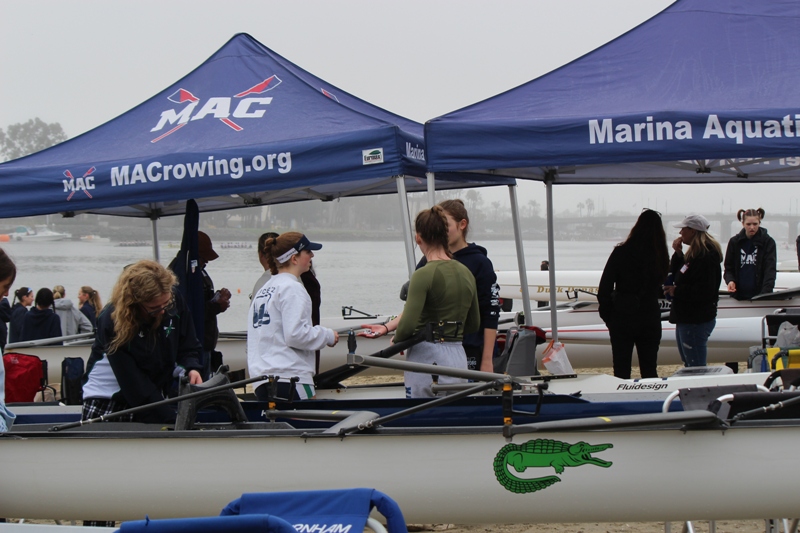 Last weekend, March 11-12, the Xavier rowing team participated in a two-day regatta in Long Beach, California, where they cleared the board.   
For the first day of events, the Women's U17 double, raced by Kalani Hernandez in stroke seat and Sarah Strickbine in bow, took fourth place in their race.   
The U17 four coxed by Gizelle Medina took second place in their semifinal – only 3 seconds from first place. This sent them straight to the final, where stern pair Brett Arthur and Marissa Gates and bow pair Kalani Hernandez and Sarah Strickbine fought bow ball to bow ball with a fellow competitor to take third place overall. 
Xavier sent out a second U17 four – coxed by Bella Adams, with Sienna Janusek and Brynlee McMillin in stern pair and Aanya Mulpuri and Grace Thomas in bow pair – who took fourth place in a delegate heat. 
The Women's Youth double, raced by Cara Schillinger in stroke seat and Sydney Hertzberg in bow, took third place in their semifinal – only two seconds away from 2nd – sending them straight to their final as well. 
Rounding out Day 1 was the Youth pair of Miranda Papez and Norah Dentz taking third place in their final.
Day 2 started off with a Women's 8 coxed by Kalani Hernandez seizing 5th Place – with Marissa Gates in stroke and Brett Arthur, Brynlee McMillin, Sienna Janusek, Aanya Mulpuri, Bella Adams, Sarah Strickbine, and Grace Thomas in bow.
The Women's Youth four, coxed by Gizelle Medina, with Miranda Papez and Cara Schillinger in stern pair and Norah Dentz and Sydney Hertzberg in bow pair, took fourth place in their hard-fought final, only 0.3 of a second away from third place.
Finally, finishing Day 2, we had two Singles – one raced by Cara Schillinger and the other by Bella Adams. Both made it to the final where both rowers fought hard for whopping 4th and 5th place finishes.
We are so proud of our Gators for showing up and showing out.  Be sure to keep your eye out for our Xavier rowers as they prepare for Regionals, where they plan to wipe the board clean and head straight to Nationals.  
Go Gator Rowers! We are so proud of you.