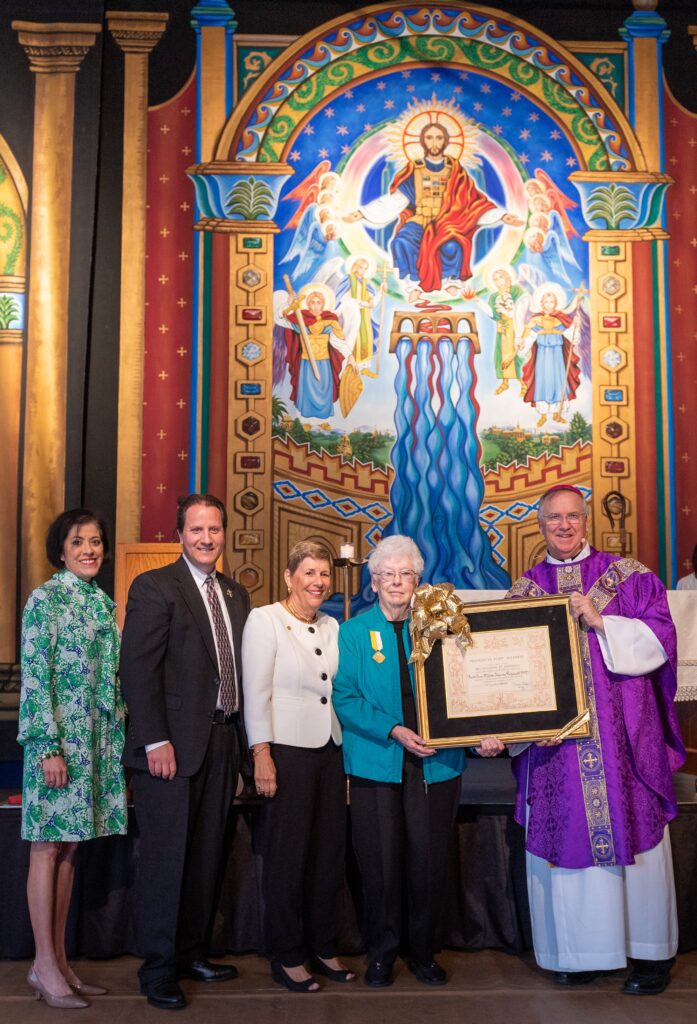 Pope Francis has awarded Sister Joan Fitzgerald, BVM, president of
Xavier College Preparatory, the Pro Ecclesia et Pontifice Medal, ("For Church and Pope")
one of the highest honors the Holy Father can award to laity and religious.
Sr. Joan was presented with the medal at an all-school Mass celebrated by Bishop John
P. Dolan of the Diocese of Phoenix. Nearly 1,200 students, faculty, and staff gave Sr.
Joan a standing ovation. Last year Bishop Dolan petitioned the pope, asking him to
consider granting the medal to Sr. Joan in recognition for her leadership and many years
of service.
The medal was being given to Sr. Joan "in recognition for her faithful service to the
Church in Catholic education, which she has carried out with distinction for over 63
years, of which 60 years have been served in the Diocese of Phoenix," said Dr. Maria
Chavira, chancellor and vice moderator of the curia.
Dominic Salce, superintendent of Diocese of Phoenix Catholic Schools, called Sr. Joan
"a force of nature. Her devotion to the students, her dedication to making sure they
become disciples of Christ and seeking excellence in their education is outstanding."
Salce also mentioned how Sr. Joan started as a Spanish teacher at Xavier and "worked
her way up through the ranks, presiding over the growth of the school and the addition
of new buildings."
Sr. Joan who recently celebrated her 60th anniversary at Xavier, was principal from 1974
through 2016. Since then she serves as Xavier's first president. She received a Bachelor
of Arts from Mundelein College in Chicago, Illinois, and a Master of Arts from Arizona
State University.
Xavier's Principal, Sister Joan Nuckols, BVM said, "Sister Joan is the cornerstone of
Xavier. For the last sixty years, she has pioneered the growth of the school in its
academics, activities, sports, campus, and most importantly, its spiritual life. She has
positively influenced the lives of thousands of students along with so many in the
Phoenix community."
Sr. Joan has received many honors throughout her tenure, including being named one of
Phoenix Business Journal's Most Admired Leaders for 2020; the Elizabeth Ann Seton
Award for Leadership to Diocesan Schools; the Ministry Award from the Diocese of
Phoenix; and the National Catholic Education Association's Secondary Education Award.