by Chris Pfaff
Xavier Track & Field came in 5th at the Rattler Booster Invitational at North Canyon HS on Saturday, March 11.
The three most notable Xavier highlights of the meet came in the 100 meters and the 300 hurdles and were produced by the class of 2024. I'll let the following three Twitter post images tell the story.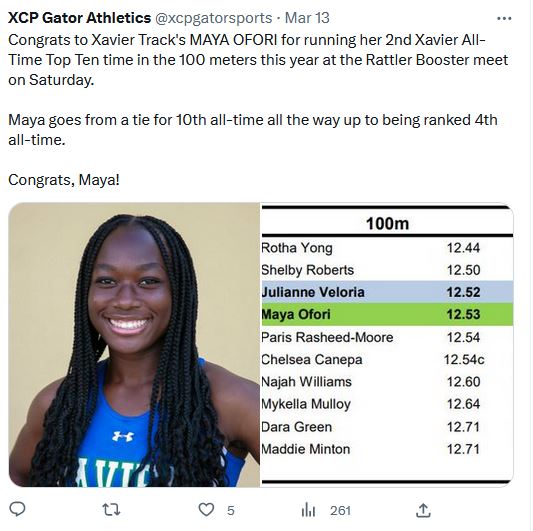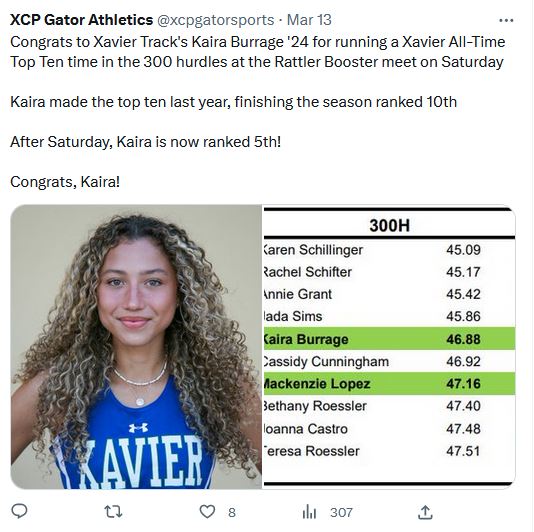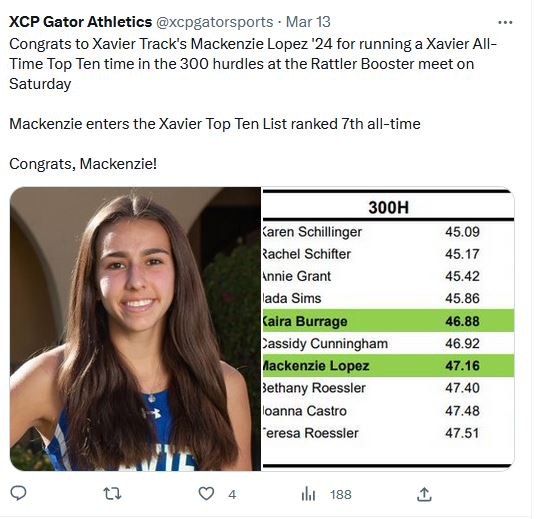 x
Another notable highlight was Frosh ELLA WADSWORTH winning the 3200m event.
Besides Ella, here are the other Gators getting in the Top 3 in an event:
2nd Place
3rd Place

100m – Maya Ofori
1600m – Julia Russo
300 hurdles – Kaira Burrage
4 x 400m Relay:

Mackenzie Lopez
Mia Stoller
Lucy Benjamin
Marley Stoller
x
Yet another noteworthy achievement that has been developing over the first 3 meets of this young season is Junior AYMARA UBOM throwing a personal best of 95-4 in the Discus. Aymara finished last season with a personal best of 83-7. She beat that by 1-1/2 ft in the 2nd meet of the season at the Aztec Invite, and then beat her new best by a whopping 10 FEET 3 INCHES in Saturday's meet.
Look for MARLEY STOLLER to break into the 200m Xavier All-time Top Ten list this season. She got a top ten time in the Rattler Booster meet, but her time was wind-aided. Wind-legal times have a wind reading of 2.0 meters per second or less. Marley's 200m time came with a 3.8 mps wind reading.
x
The following athletes got career personal bests at this meet: