by Chris Pfaff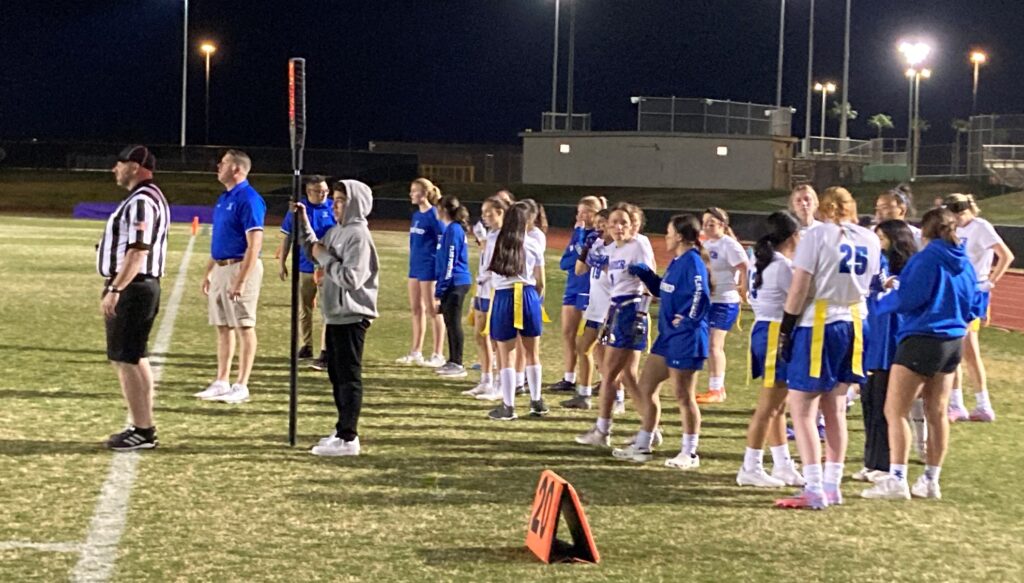 After much planning and eager anticipation, Xavier's Inaugural Flag Football Season finally materialized on Tuesday, March 7. With Head Coach Mike Patterson and Assistant Matt Ferrelli pacing the sideline, the first flag football game in Xavier history began at about 6:00 pm., minutes before dusk began to overtake the Millennium Tigers' football field.
Although Xavier lost 25-43, the game was much closer than the score indicates. Xavier led 25-24 late in the 3rd quarter.
Millennium struck first with a touchdown and missed extra point early in the first quarter. MILL. 6 XCP 0
Minutes into the first quarter, frosh quarterback Izzy Villarreal hit senior Molly Caris for the first pass & catch in Xavier's history. VIDEO: Izzy Villarreal to Molly Caris for Xavier's first ever pass & catch
Three minutes later, Izzy hit senior Kristy Tom for Xavier's first touchdown in the history of Xavier. Xavier leads 7-6. VIDEO: TD #1 – Izzy to Kristy Tom
In the 2nd quarter, Millennium intercepts a pass and scores their 2nd TD. Millennium 12-7
With barely over 1 minute left in the first half, the Tigers score again. Millennium 18-7
Xavier takes less than a minute before QB Izzy connects with junior Briella Boubek; Xavier goes into halftime behind 13-18. VIDEO: TD #2 – Izzy to Briella Boubek
Two minutes into the 2nd half, junior Lilly Mederos intercepts a Millennium pass. Not long after that, frosh Mikayla Patterson takes in an Izzy Villarreal pass and charges past the goal line for a 19 to 18 Xavier lead. VIDEO: TD #3 – Izzy to Mikayla Patterson
Millennium storms back to score again: Tigers lead 24-19.
Not to be outdone, Izzy hits frosh Cooper Hidalgo for Xavier's fourth touchdown. Still in the 3rd quarter, Xavier leads 25-24. VIDEO: TD#4 – Izzy to Cooper Hidalgo
After this, Millennium made several interceptions on the way to a 43-25 victory.
I came away from this game with a lot of hope for the future of Xavier Flag football. Their first game was definitely a game the Gators can build on.
— A lot of good passing and receiving.
— Excellent running by QB Izzy Villarreal.
— They showed a high level of skill pulling flags.
— A fabulous frosh quarterback and some fabulous frosh receivers to go along with some very talented players at each of the other grade levels.
Xavier Flag Football will be fun to watch. Go Gators!