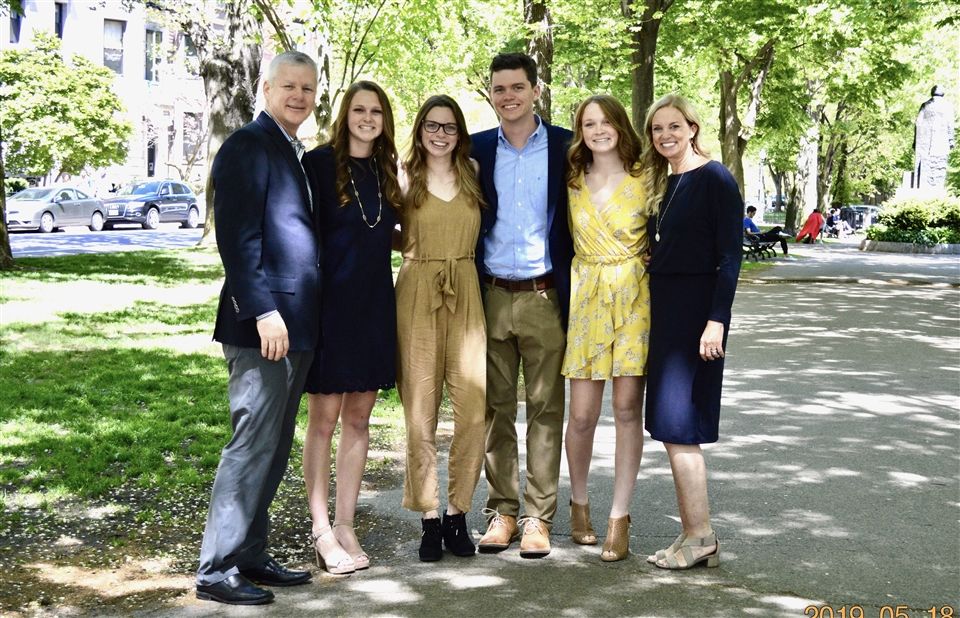 Kathleen Schwarzkopf Harris '81 and her husband Tom are new members of the Mother Mary Frances Clarke Heritage Circle. As an alumna and Xavier parent, Kathleen has served as President of the Board of Trustees, President of the Xavier Foundation, Inc., President of the School Advisory Board, and a long-term member of the Finance Committee. Kathleen and Tom have four children, two recent Xavier graduates and one currently enrolled.
From Xavier's recent "Let us Know" initiative that generated publicity about Xavier's Legacy Giving opportunity, Kathleen and Tom informed Xavier that they have designated a gift from their estate to Xavier. Learning from her mother, who was deeply involved at Xavier in giving of her time, treasure, and energy, Kathleen has continued the family legacy.
"Philanthropy was an integral part of my life growing up. It's what my parents demonstrated to me, and now we're happy to continue that legacy," says Kathleen. "In fact, Tom and I adopted a philanthropic mindset early on in our married life and we have been fortunate to have been involved in many organizations near and dear to us."
Having served in many leadership roles at Xavier as a Xavier parent, Kathleen puts her philanthropy passion into practice.
Why A Legacy Gift?
"Even though funds are distributed in the future through our estate, it gives us a chance today to direct where we'd like our charitable dollars to go. Xavier has had such a major and positive impact on our family and our community, it was clear that we would like to remember them with this gift."
Designating a Legacy Gift to Xavier is a great way to leave your legacy, and your membership in the Mother Mary Frances Clarke Heritage Circle can positively impact many lives. If you already have, or plan to designate a Legacy Gift to Xavier, please "Let us Know" by contacting Curtis Bruggman, Director of Legacy Giving, at cbruggman@xcp.org or 602-240-3133.