Xavier FR/SO Track & Field Team won the Brophy Fr. Olivier FR/SO Invitational that featured nine teams on Thursday, April 22.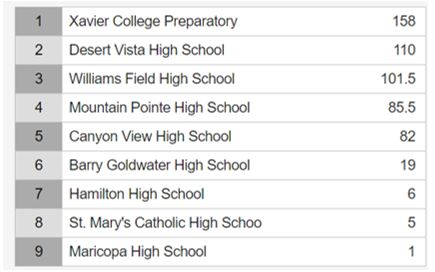 Event Winners:
— Naomi Young: 800m
— Reyna Silva: 1600m
— Lourdes Lauterborn: High Jump
— The 4x400m Relay team of Mackenzie Lopez, Lauterborn, Bella Gomez, and Tatiyana Angry
— The 4x800m Relay team of Sarai Arkeveld, Holland Carey, Ashley Mansour, and Bella Titus
Link to Xavier Individual Performances List (includes time/distance, place, points scored)
The top 4 Point-Getters for Xavier were:
1) Lourdes Lauterborn – 20.5
2) Madigan Moran and Reyna Silva – 14
4) Callie Ehmann – 13
Link to Personal Bests List (21)
Scoring Highlight: Xavier scored 29 out of the possible 39 points in the 1600m, taking the top 4 places.
Link to Scoring Spreadsheet showing how many points the Gators scored in each event
The meet did include a Non-Scoring Open Division. Xavier's results are included in the Individual Performances listed above.
Another feature of the Fr. Olivier Invitational was the Open Heptathlon, where athletes compete in 7 events over a two-day period. Each athlete earns points for each event based on their performance marks. Prior to this meet, only 9 Xavier athletes had ever competed in a heptathlon.
Four of the ten competitors in the heptathlon were Gators: Ellie Higgins, Cierra Gonzalez, Illiana Kockinis, and Sofia Asher.
Link to Heptathlon Scoring Spreadsheet
HEPTATHLON HIGHLIGHT: Ellie took 6th and Cierra took 8th.
Both moved into the All-Time Xavier Top 10 List for Heptathlon: Ellie at #3; Cierra at #9.
Link to Xavier Top Ten Lists