Xavier family keeps it simple but makes BIG impact!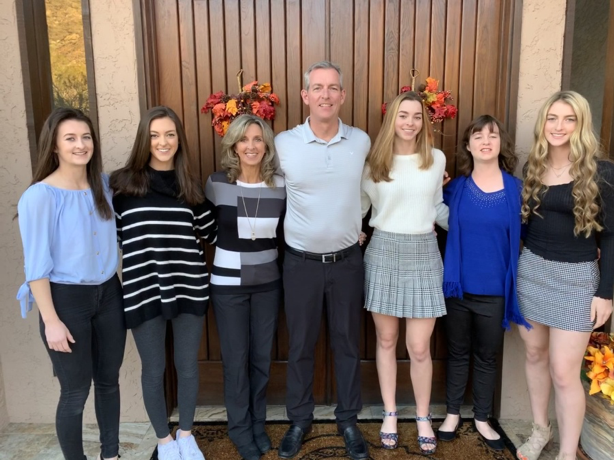 There are many ways to make a Legacy Gift, and long-time Xavier supporters Carolyn and Mike Donahey went big – but kept it simple. They wanted to make a significant impact but didn't want to change their current estate plan, so they simply designated a percentage of Mike's retirement account to Xavier's Mother Mary Frances Clarke Heritage Circle! "It was easy to do and as my retirement account grows, so does our gift to Xavier."
Legacy gifts are those designated to an institution from one's estate and there are many ways to do this without changing a will or trust, and the Donaheys did just that, when they recently supported Xavier's "Let us Know" initiative. "As we approach the end of our ten year capital campaign commitment and our daughters' time a Xavier, we see a legacy gift as the perfect way to support Xavier's long term needs and express our appreciation for the good works of the BVMs, especially the leadership of Sr. Joan, Sr. Lynn and Sr. Joanie, and to honor my aunt, Sr. Mary Donahey, a BVM sister and former professor at Loyola University Chicago who passed away in December."
As proud parents of five daughters, including three Xavier graduates and a current junior, Carolyn and Mike have been heavily involved at Xavier so making a Legacy Gift was a natural thing to do. Mike has served as a member of the Board of Trustees and on other committees, and both he and Carolyn support Xavier's varsity softball program as announcer and scorekeeper at home games.
The Donaheys feel that the Xavier experience prepared their daughters well for college and life and many great Xavier teachers and coaches played a role in their growth. Megan '16 graduated from Princeton and is an analyst for Accenture's New York City office. Julianne '17 attends the University of Iowa and plans to be a special education teacher. Katie '20 attends Yale and plays on their softball team. Kelly attends the Austin Center for Exceptional Students (ACES), and Bridget '22 is a junior at Xavier and plans to play softball at Northwestern.