Experience Science at Xavier
The universe is a place subject to a number of fundamental scientific principles. An understanding of these principles will better prepare our students to cope with a world in which rapid technological developments are taking place. As knowledge rapidly expands, it is most important for students to learn to make rational and moral decisions based upon scientific principles and their Catholic Christian values.
The skills and knowledge afforded students to make these types of decisions should reflect their appropriate level of intellectual and emotional growth. This curriculum is designed to stimulate curiosity and to develop ethically and morally responsible, scientifically literate citizens. This curriculum stresses the process of science as a way of learning and further emphasizing that scientific knowledge is always subject to change based on additional knowledge.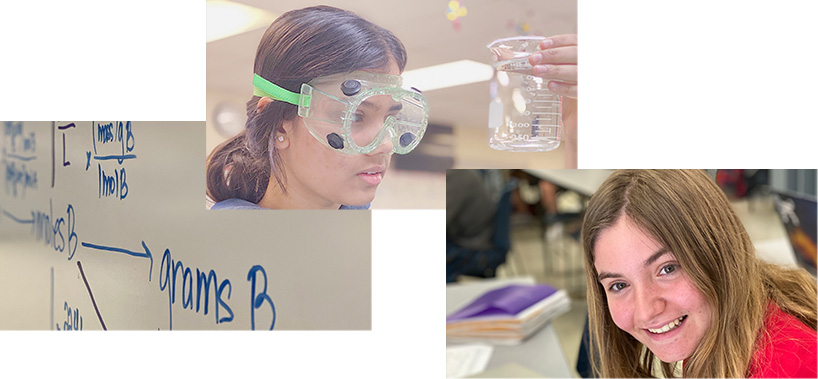 EPICS is a design-based, service learning program that teaches students about engineering and technology fields while civically engaging them in their local communities. The program was founded at Purdue University in 1995, and has grown at Purdue and beyond to include nearly a dozen national and international universities. The high school program, EPICS/High, which began in 2004, can be found at three dozen high schools in 6 states across the country, including Xavier College Preparatory. In the EPICS/High program, teams of students work together on projects that address the engineering and technology-based needs of community service and educational organizations. This partnership provides many benefits to the students and the community alike. Students are introduced to engineering, technical design, and social responsibility, while community partners gain access to resources needed to provide valuable services to their organization. EPICS at Xavier provides a means to using engineering and service to integrate and understand the seven themes of Catholic Social Teaching.
For more information and specific questions regarding Science at Xavier, please get in touch via email.
Jennifer Weiland, M.Ed., '91
Science Department Chair
jweiland@xcp.org