Experience English at Xavier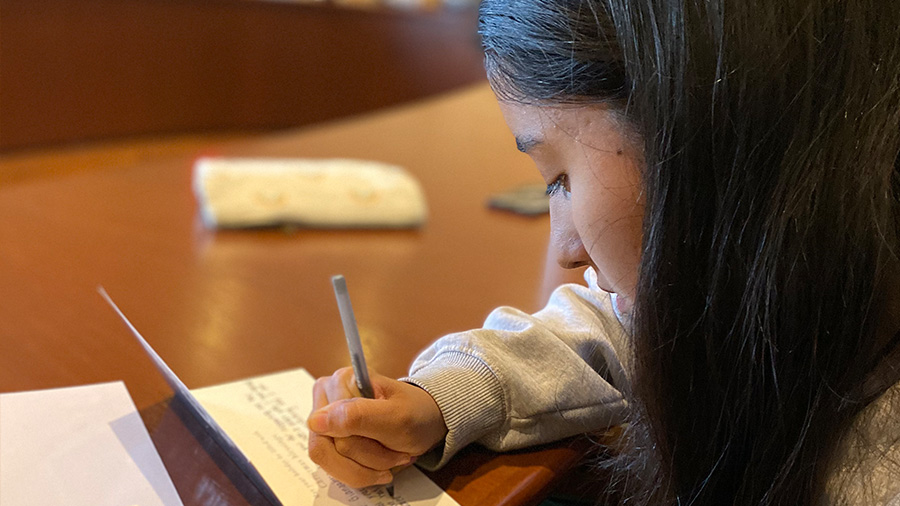 With a reputation as one of Arizona's premier secondary education programs, the English Department functions as a nexus for Xavier's academic, spiritual, and cultural communities. We maintain a strong commitment to traditional areas of study such as reading, writing, and critical thinking while employing innovative approaches to the classroom.
Our outstanding faculty offer an integrated array of Honors, Advanced Placement, and Great Books courses that reflect the great diversity of  literatures in English and of the global community, while at the same time developing writing and analytical skills. Graduates of Xavier's English program will enter the college classroom with the foundations to excel in reading, writing, and critical thinking at the world's leading universities.
The English Department's ten distinguished faculty hold multiple master's degrees, countless professional certificates, and two doctoral degrees. English faculty moderate publication of the Pierian Spring literary magazine, the XPress online newspaper, and the Xavierian yearbook. We coordinate Xavier's campus-wide Summer Reading program, and moderate clubs such as Mock Trial, Poetry Out Loud, Toastmasters, and Key Club. We organize campus-wide activities ranging from the Creative Writing in Ireland  program to the Xavier Fashion Show.
We engage with our students through conventional methods of instruction, as well as the latest student-centered, adaptive technologies that enhance student abilities in vocabulary, grammar, and cognition. In addition to our Honors, AP, and Great Books courses, English faculty teach classes in American Government, Theatre, and Journalism. Four of our courses are eligible for Rio Salado Dual Enrollment Credit.
While we hope to encourage our students as they grow daily in their reading, writing, and analytical thinking, we believe that the greatest treasure our students can gain through our department is a lifelong love of books. Books can instruct us as we learn through life's experiences, guide us through our emotional growth, and serve as a source of comfort in times of distress. Books offer us access to history's greatest minds and concepts. According to a 2016 issue of Social Science and Medicine, people who read books even live longer than those who read only periodicals, or do not read at all.
We look forward to helping Xavier Gators find their love of books in the English Department at Xavier College Preparatory.
Our Classroom Reading List